Our hobby need some equipment. Here you can find the tools an materials that we're usually using.
If you know some cool stuff that is useful, please let me know. I'll be happy to try it. 🙂
Painting Tools: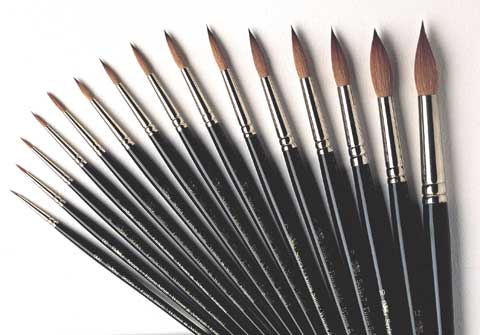 Brushes – We're using exclusive W&N Kolinsky Series 7 brushes. You may heard about them and there's a reason for that. This stuff is great! We have tried few other brands and there's no comparison. Precision and durability of them is exeptional.
I really don't think it's always necessary to buy the most expensive tools, especially if you're beginner . However this example is an exception. Of course, you can use any brand, but please don't waste your time and money on cheap brushes.
Using cheap brush to paint miniatures is like performing eye surgery with machete. You may get strange results and it isn't pleasant for anyone.
You should experiment with sizes but we are using only two of them:
Airbrushes – We're using them and I think it's great tool. It isn't for everyone, but if you can use it it's a bliss. I bought my first airbrush on my 18 birthday and I'm sure I wouldn't have a business right know if I would buy PlayStation.
Anyway, I just want to show you what we're using and what I have in mind writing about 'airbrush'. Currently we have two airbrushes:
Compressor – We use generic Polish brand, which is very similar to this compressor:
Paints:
What brands should you choose from?
Safe bets are Vallejo, Citadel, Andrea, Scale75 or P3 (if you don't mind spending fortune on Matt Medium). There's no point in searching for cheaper paints, all brands worth something have similar pricing.
Choosing your palette is all about cherry picking. Almost every brand has very good colors as well as very bad.
Here you can see detailed list of our color pallet.
Cleaning and Assembling:
It isn't the most exciting part of creating a miniature, although it's very important. It not done properly it can mess up even the best paintjob.
Blades:
Number 10 and 11 are the most easy to use in our experience.
Usually miniatures are made with four different materials and for each one there are slightly different techniques and tools.
Metal:
Clean with scalpel, then polish with steel wool. Pins are mandatory for every separate parts and for foots. You should cut down slots and make pins in the widest part of foot.  If something isn't pinned it will break down eventually. Use super glue for assembling.
Privateer Press Plastic:
Same as metal, but pay extra attention to steel wool part. It will clean model from any plastic residue. It's the most difficult material to work with.
Resin:
Use mask when polishing! Also you can skip pining extra small parts.
Hard plastic (Games Workshop models):
Usually you can go without polishing. Also you can skip pinning part except for pins in foots. Glue with plastic glue, it will make model extra solid.
If you don need miniatures already on bases after cleaning and assembling you should put all models on corks. You'll have models ready for proper paintjob.
Lighting
What light are you using? We have few this lamps.
These are decent and very cheap (less than 12$), but I couldn't find same product on Amazon.
The closes thing I found is here. Anything with fluorescent, white 22W light bulb should work fine.